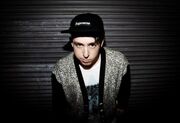 Since setting forth on his mission to create a better world through fresh making, this Sydney-side vibe master has positioned himself at the forefront of the Australian dance music scene. His DJ sets of piper exclusives, re-edits &fresh-ass booties have caused crowd riots all roundAustraliaand we have had reports of disturbances in Asia & Europethese past few years. He has placed top 10 on the InT heMixDJ Poll (2011 & 2012) and you can find his originalproductions, remixes and tunes from his own indie labels(bambamMuzik, No Frills Label & Bakehaus Records) at thetop of the ARIA charts, or in the record bags of the global DJelite.Trying to pin a professional appreciator like Tom Piper to asingle genre is like telling Casanova to keep it in his pants.His preference is everything and more; an orgy of music thathas seen Piper's prolific output and supreme decksteritydemanded by the biggest brands in the biz - now signed toMinistry of Sound and host's the national MOS radio show.Tom's tunes can be found on worldwide CD releases likeFABRICLIVE, but he's also going platinum sales with his ownmix CD's, applying his freshness to compilations that shiftmega units without breaking a sweat.In 2012 Tom took out the AIR Best Independent DanceRelease award with Daniel Farley for their record ' L.G.F.U.',in 2011 he won that same award with partner in crimeTommy Trash.Behind the decks, on the air, in the studio - it's all just part of the package, another day's play for the princely fresh maker who continues to push the boundaries of danc emusic on the worldwide stage.
Ad blocker interference detected!
Wikia is a free-to-use site that makes money from advertising. We have a modified experience for viewers using ad blockers

Wikia is not accessible if you've made further modifications. Remove the custom ad blocker rule(s) and the page will load as expected.