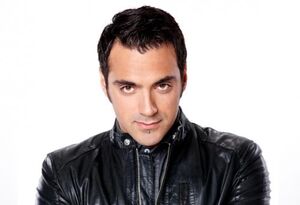 Ummet Ozcan
 (born 16 August 1982) is a Dutch DJ and producer. His releases are supported by DJs like Sander van Doorn, Armin van Buuren, Tiësto, Calvin Harris and Hardwell. Hits include TimeWave Zero (Doorn Records), Arcadia (Doorn Records) and Shamballa (Reset). Ummet is also known for his softsynth and soundbank design for well-established music software houses like Rob Papen (Albino, Predator) and for hardware units such as the Access Virus.
[1]
Ummet Ozcan releases a lot of his musical material under the Spinnin Records sublabel "Reset Records". Also, his co-production "MEM" release most of their material on this label.
After releasing techno-influenced trance music for nearly 5 years, Ummet's latest productions are more focused towards the American EDM movement. In late 2012 he started producing Big room house alongside Dimitri Vegas & Like Mike and R3hab. Co-Productions
2007 The Sunclub - Fiesta Reloaded
2007 Lucky & Strike - Get Laid
2008 Spider* & M.E.M - Hit The Drums
2008 MEM - Banging Da System
2009 Randy Katana Ft MEM* - Go Tech [Reset]
2009 MEM - Inspirit [Reset]
2009 MEM - Time To Believe
2010 MEM - More Than Feelings [Reset]
2010 MEM - Forza [Reset]
2011 MEM - Twisted [Reset]
2011 MEM - In To U [Reset]
2011 MEM - Illumination [Reset]
2011 MEM - Invictus [Reset]
2012 MEM - In Control [Reset]
2012 MEM - Next Level [Liquid]
2012 MEM - Interno [Reset]
2013 MEM - Reptile [Reset]
2013 MEM - WTF! [Reset]
2013 MEM - Flatline [High Contrast]
2014 MEM - Do It Like That [Oxygen]
2014 MEM - Ecco (Ummet Ozcan Edit) [DOORN]
2015 MEM - Rock That Body [Oxygen]
As Myron
2014 Dr Willis & Myron - No Regular [Freefall][8]
Mixes
2011 Talla 2XLC Joins Ummet Ozcan - Techno Club Vol. 35
Ad blocker interference detected!
Wikia is a free-to-use site that makes money from advertising. We have a modified experience for viewers using ad blockers

Wikia is not accessible if you've made further modifications. Remove the custom ad blocker rule(s) and the page will load as expected.