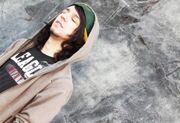 Young and relentless ZXX, born in Macedonia, raised on the outskirts of Chicago. Taking up DJing and electronic music at a very young age, signed to Dirty Fabric at the age of 17, and highly trained in sound. Also known for his popular collaboration project and protege to Paul Anthony & ZXX, which whipped up a storm across the US and other parts of the world, helping fuel the EDM movment across America. With their massive bootleg anthems, these two were on the forefront of underground electro sound and were in every DJ's playlist, from bars, clubs, to festivals. Tracks like Sex 101 reigned supreme right before the birth of the EDM movment. Through 2009 and on wards, the duo has managed to top charts across Beatport, other sites, have been graced on world famous decks from names like Wolfgang Gartner, Bad Boy Bill, Tiesto, Laidback Luke, Diplo, David Guetta, Afrojack, and many others. Also a part of many high profile studio projects for labels across the worlds like Mixmash, Ultra, Juicy, and Menage. After a long wait, ZXX recently launches his label Ohmega Records, with blog popular releases such as Here It Is, Bankai, Violet Amplitude, hoping to grow his unique flavored sound and push innovation to the world of electronic music. One that strives perfection and edge, he puts his energtic soul first on his productions.
Section heading
Write the first section of your page here.
Section heading
Write the second section of your page here.
Ad blocker interference detected!
Wikia is a free-to-use site that makes money from advertising. We have a modified experience for viewers using ad blockers

Wikia is not accessible if you've made further modifications. Remove the custom ad blocker rule(s) and the page will load as expected.